How to Login
09 Mar 2021

1 Minute to read
How to Login
Updated on 09 Mar 2021

1 Minute to read
---
Cloudingo Basic & Standard License Users

Cloudingo's basic and standard license only allows for one username and password.
From the login page, Salesforce admins can login using the blue 'Login with Salesforce' button. All other users use the white boxes to login by entering the Cloudingo username (which is the Cloudingo user's email address) and the Cloudingo password assigned to the Cloudingo account (whatever password was set when the account was activated).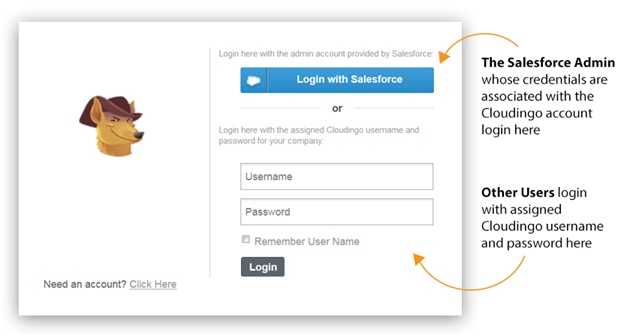 If you'd like you can change the username and password and, if needed, you can also change the Salesforce Admin ID associated with the account.
---
Cloudingo Professional & Enterprise License Users
Cloudingo's Professional & Enterprise licenses allow for multiple user logins to Cloudingo for security and auditing purposes. The main Cloudingo administrator for your organization will establish the initial administrative connection to Salesforce (much the same as a Standard license user instructions above).
The Cloudingo administrator will be responsible for setting up and maintaining all additional users. New users will receive information via email on how to activate and login with their newly created credentials. Depending on the account settings configured within Cloudingo, it might also be required that the new user establish their own connection to Salesforce using their Salesforce credentials. This will vary based on the 'Settings' option chosen by the Cloudingo administrator.
The Cloudingo admin can control which areas of the Cloudingo application each user will have access to. Once the user logs in to their account using their own credentials, only areas that they have been granted access to will be available.
For more information on Cloudingo Professional or Enterprise login options, please visit the Multi-User Settings here.
---
Was this article helpful?
---
What's Next