Import Basics
29 Oct 2021

8 Minutes to read
Import Basics
Updated on 29 Oct 2021

8 Minutes to read
---
Before you begin using the import tool, there are some basic details you need to know about the tool. These will help you avoid problems and give you some basic background information on the process to make learning the tool a bit easier.
---
Rule Requirements
If you know that your file data is more valuable to retain than the existing data in your org for some or all of the fields in your upload, you will want to set up Import Rules to retain the import record value(s) during merge. Example: Lets say you know that your file contains more up-to-date phone numbers than the data you would have in any of your existing records. You would set up a specific field level rule in your Import Rule for Phone using the Incoming Record rule, and always override the master with a value. Continue this process for any other fields you want to override data with.
Please visit our help article here for more information on how to properly configure rules for your imports.
ALERT!
If you have been using the import tool prior to the October 2021 release, please be aware that rule options for Import have changed. Rules previously configured for import using OLDEST CREATED DATE (which was previously designated for import record values) have been put into Classic Mode and will need to be updated to the Current Mode import rules.
Taking action to convert your rules will be required
. Please
visit our help article here
for more information.
---

Keeping the Import Wizard Clean (Incomplete Imports)
By default, all incomplete import files are detectable with regular Dedupe filters. For this reason, it is safest to always complete your imports during the import process.
Leaving imports uploaded that are in incomplete status could skew your filter results in the regular Dedupe process (and potentially even get automated if the dedupe filter is scheduled to run automatically).
It is highly recommended that you always complete the import process right away, or delete the uploaded file if you decide you do not need to retain the records in those incomplete uploads.
---

Import File Limitations
The Import Wizard will allow you to import a CSV or Tab Delimited file of up to 10MB.
Additionally, Cloudingo works with UTF-8 characters. Cloudingo does pick up various characters sets, but there may be some limitations—for example, Cloudingo may not see a match between "e" and "é." These are "special" characters which we do not normally use in English, although there are Unicode characters for English which would require these two steps.
Example of special characters:

To import properly you will need to convert to UNICODE using one of two methods in Excel:
Method 1
When Saving in Excel, pick "Unicode Text" as the option and save it. This should preserve those characters.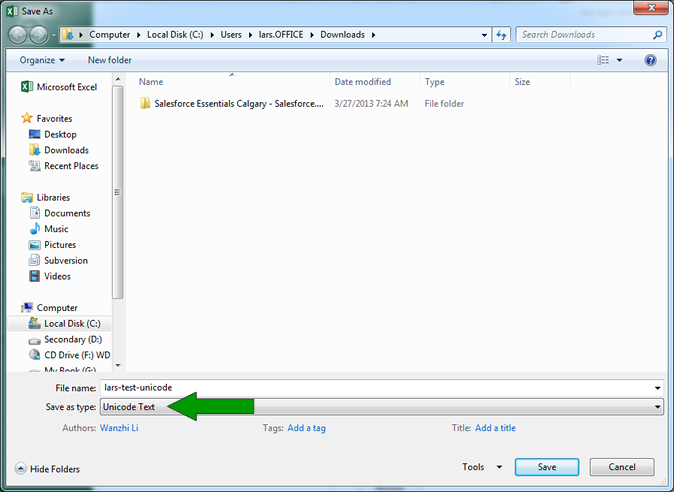 Method 2
Save the file as "Unicode text" or:
Open the file in Excel
Highlight all
Copy to the clipboard
Paste into Notepad
"Save As"
Select "Encoding UTF-8" This is essential. You should get a warning if you try to save it as ANSI. The other Unicode formats will work and would be better with non-Roman based alphabets like Japanese or Arabic, but for Roman based scripts, UTF-8 will be the most efficient.
Save with a file name extension of .csv (Yes, we know that it really is not a CSV file, but it works.)
Import this new CSV file into Cloudingo.
Additional Information: Below is a set of steps regarding how Excel handles special characters.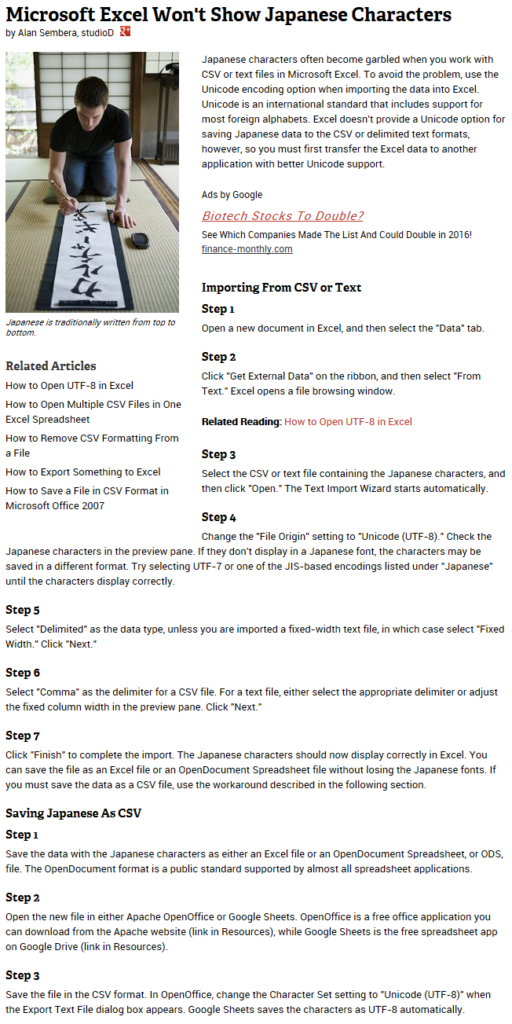 ---

Associating Campaigns
Scenario: You would like to import a list of new Contacts and Leads, associate them with a Salesforce campaign upon upload, and "update" the duplicate records already in Salesforce with any additional info. How can you do this?
Answer: You can easily scan Contacts then Leads and associate them with a Salesforce campaign using the Import Wizard. The steps are very similar for importing multi-objects.
Note: It is recommend that you start with a small file (around 5-10 records with a few duplicates) in order to get a feel for how the multi-object import works before performing a large job.
Even if you are not attaching to a campaign, this is a nice shortened guide on how to perform the basic steps of the import process.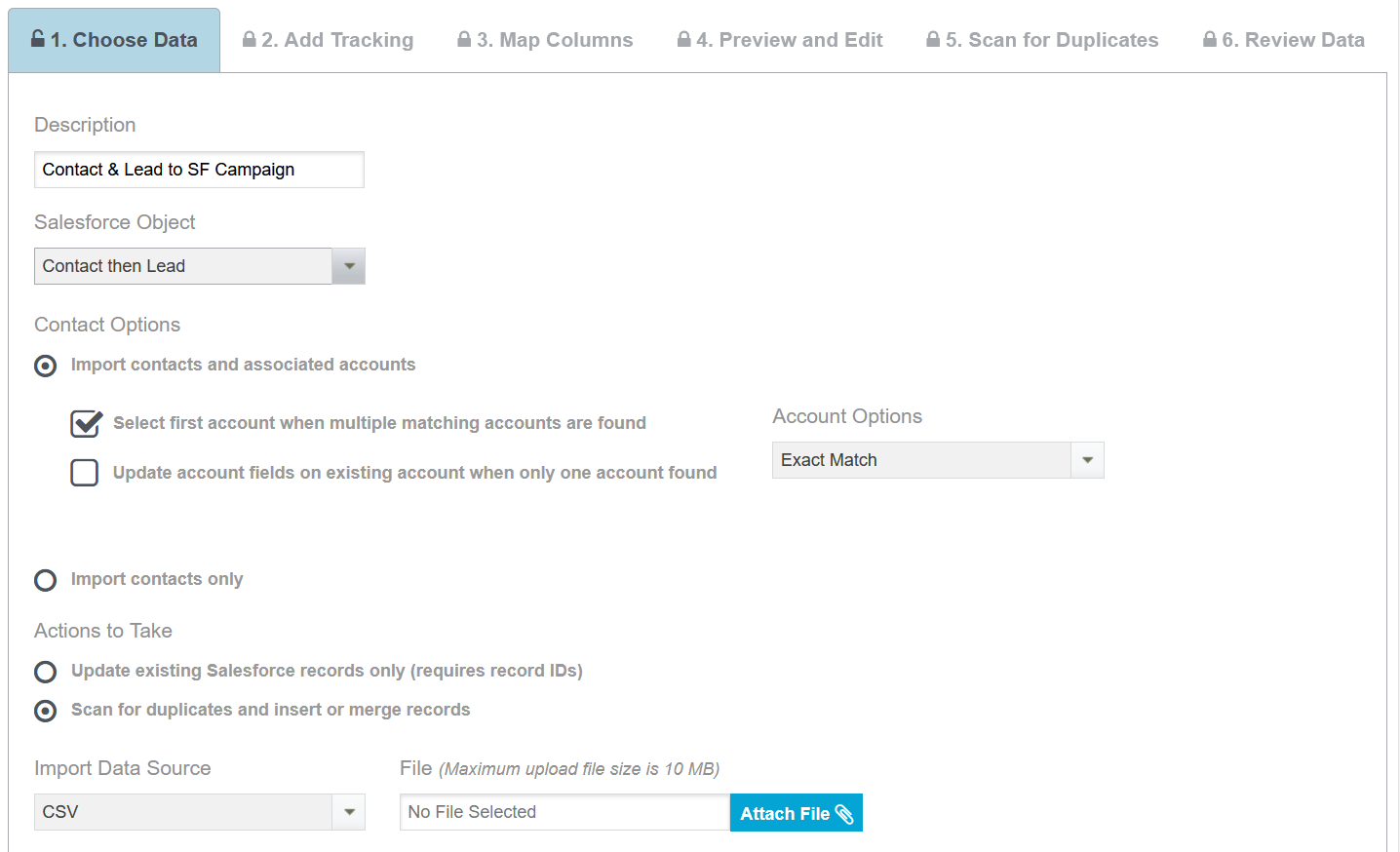 Tab 1: Choose Data
Select 'Contact then Lead' in the Salesforce Object dropdown if you would like to scan both objects, or choose the Contact or Lead object independently (depending on your list and campaign desires).
Select 'Exact' or 'Company Name Cleaned' under the Account Options dropdown to tell Cloudingo how to scan for matching accounts.
Tab 2: Add Tracking
Tab 2 Add Tracking is where you will attach the Salesforce campaign. All records in the file will be attached to the campaign you specify.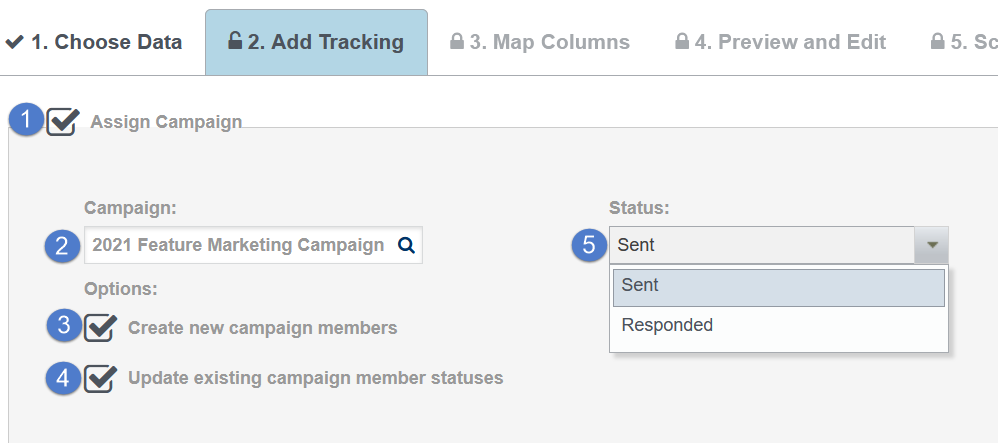 Select the 'Assign Campaign' checkbox


Choose the campaign you want to assign to your file (use the search icon to search your campaign list).


Check the 'Create new campaign members' box to create new members not already assigned to the campaign during the merge and push process.


Check the 'Update existing campaign member statuses' box to update the Status for any existing campaign members already associated to the campaign.

For #3 and #4, you must have one or both options selected.


Choose the campaign status that will be assigned to the members in your upload.
Tab 3 and Tab 4:
On Tab 3, you will map contact fields first and then lead fields if scanning both objects. You can switch between the contact and the lead field mapping screens by selecting the radio buttons near the top of the tab. A preview of your import data set will be displayed on Tab 4 Preview & Edit. (If scanning independent objects, you will only have one set of mappings).
Tab 5 and Tab 6
If using multi-object scan, in Tab 5 and Tab 6 you will first work with Contacts to scan for duplicates, run filters, and merge those results. Once you're done with Contacts, click Rescan to do the same for Leads – scan for duplicates, merge the results, and finally push the unique records as new leads into Salesforce.
Be sure to select your newly created import automation rule during this step if you are planning to override existing data with any of your import data.

If scanning multi-objects, be sure to uncheck the "Create a Contact (instead of lead) when the account is found" checkbox so that new contacts with an associated account are not automatically inserted, otherwise Cloudingo will not continue to scan for leads. Leave this box checked if you want the records pushed in as Contacts rather than leads if a matching account is found.

(Note: On Tap 5 keep in mind that the import data is defined as the "Oldest Created Date". Therefore, if you'd like the import data to override the existing Salesforce data, you will need to setup a new automation rule.)
You can scan each object with any contact or lead filter and rescan as many times as needed in order to find and manage duplicates. Scan, the merge, then 'Rescan', then merge, and so forth until you have run all filters you want to process the file through (for both objects if using multi-object).

Once you have finished the merge process, select 'Push' to send the unique records to Salesforce.
All records merged or pushed will be attached to the campaign appropriately.
---
Using Rescan
The Import Wizard allows you to perform multiple passes or scans in order to push the cleanest data possible to Salesforce.
From Tab 6 you have the ability to select Rescan to go back to Tab 5. From Tab 5 you may select different filter criteria to scan your import file against to find duplicates in various ways.
On the first scan you will start with the tightest filter and on additional passes you will work your way through looser filters or different fields. Be sure to review and merge your duplicate results after each scan until you are comfortable enough with the results to automate the process. By rescanning your file, you have the ability to find duplicates on OR logic.
---
Exporting Results
You may export your CSV file on Tab 4 and Tab 6 of the Import Wizard.
On Tab 4, a list of selected records can be re-exported into a CSV file by selecting the records and clicking the Export button. If you have made any changes to your file during this step you may want to save a copy of the CSV file that you will be importing.


On Tab 6, you may export a list of selected records. The exported CSV file will display the record status, a message stating if the records are duplicates in Salesforce, in the CSV file, or both, and all of the fields mapped in your file. If you have "pushed" any records to Salesforce, the export file will also display the Salesforce record ID.
Cloudingo deletes all file uploads automatically after 30 days, so it is recommended that you export your import results to CSV and store them locally.
---
Adding & Updating Fields
Scenario: You're using the import wizard. For those that are duplicates, you want to add new information and update blank fields.

Solution: You can add new information on an import file in a couple of ways:
If the added information is standard across all records, such as Lead Source, select the field on Step 3 of the import process (mapping) even though it's not included in the CVS file. Then on Step 4 you can quickly enter a value in the field and copy it to all records.


Alternately, on Step 4 and Step 6 you can edit any fields on the individual groups with inline editing. This presumes you did not select auto merge or auto push on Step 5.
Lastly, you can configure your automation settings to select the correct values from the import file or from the records in Salesforce. However, this configuration relates to updating or changing existing values, not for adding values that aren't already there or blank fields.
These tips are all just outlining the Import Basics. Move on to our next help article to get more specific details on the import filters, rules, and process.
---
Videos
Video: Import Wizard Must-Knows & Troubleshooting Import Issues
Video: Keeping the Import Wizard Clean
---
Was this article helpful?
---
What's Next