Salesforce Credentials & Connection Settings
27 Aug 2021

1 Minute to read
Salesforce Credentials & Connection Settings
Updated on 27 Aug 2021

1 Minute to read
---
Step 1: Login to Cloudingo
From the login page, users that have established the Cloudingo connection to Salesforce using their own Salesforce credentials can use the 'Login with Salesforce' option. All other users use the white boxes to login by entering the Cloudingo email/username and password assigned to their Cloudingo account.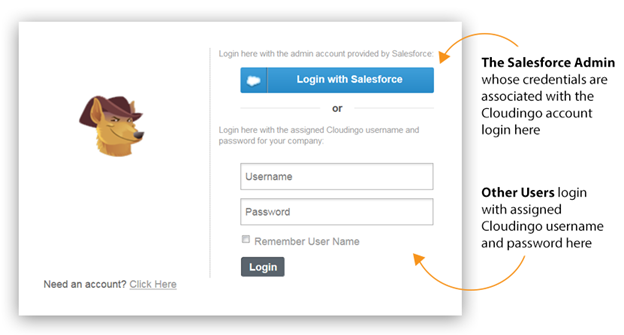 ---
Step 2: Update Salesforce Credentials and/or menu display name
The platform menu in your top, left corner contains your Salesforce connections.
Changing the Salesforce credentials associated to Cloudingo is different than changing the Cloudingo username. The Salesforce credentials entered are used to establish the connection between Cloudingo and Salesforce. But, they do not necessarily have to be the same as the Cloudingo username & password that were created when the account was established.
The platform menu display name (in the gray bar labeled 'Production' below) for this drop box can also be changed to something more specific to your connection.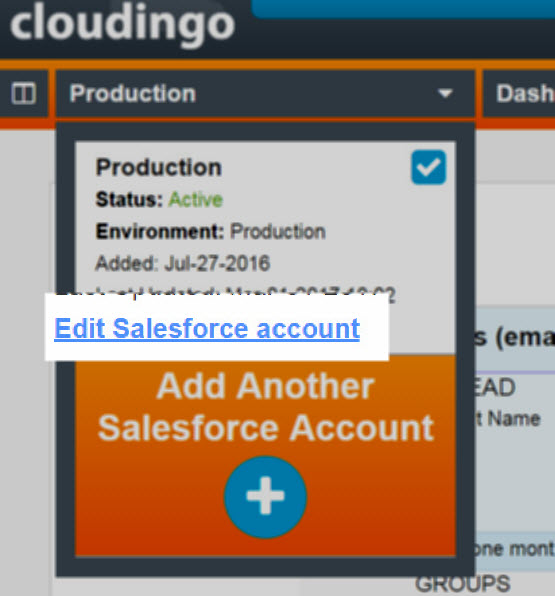 To change the menu display name or to update the Salesforce credentials saved to Cloudingo, click on the top, left platform menu dropdown. Click the 'Edit Salesforce account' link for the environment that you wish to update the display or Salesforce credentials on.
If the connection is successful, the account should automatically begin the reindexing process. If the connection fails, refer to troubleshooting connection problems.
Required Salesforce User Permissions
You must use a Salesforce Administrator account (or an account using a profile with full read/write/update/delete permissions to the objects you will be working in - and all fields within those objects). These requirements are so that the queries required to pull the field values from the objects are not limited, allowing you to get the most complete record possible during merge without any data loss.

In order for Salesforce to process the requests, the Salesforce user must also have View All & Modify All access on the objects. Cloudingo does not require any permissions outside of the requirements that Salesforce has for the query & merge process.
---
Video
Video: Transferring a Cloudingo Account to Someone Else
---
Was this article helpful?
---
What's Next