Exportable Reports (Pre-Merge)
20 May 2021

1 Minute to read
Exportable Reports (Pre-Merge)
Updated on 20 May 2021

1 Minute to read
---
There may be instances where you want to see a list of duplicate records that are being reported within a particular filter before any merge or action takes place.
The Exportable Reports add-on allows you to export filter results into a .csv file to analyze outside of Cloudingo. This report is very basic (mainly record IDs only) due to the fact that Cloudingo does not store your Salesforce data by default.
We offer two pre-merge report options. The exportable report described in this article is the first option, and the Automation Preview report is the second option (which is a customized report that is a bit more extensive).
Professional & Enterprise Cloudingo license users: Please contact our Support Team for assistance enabling either pre-merge report option, as both are included with your license.
Report Output
The Exportable Pre-Merge report includes:
Group name
Total match count in each group
Salesforce IDs of all records within a group (both master & non-master)
Note: this report does not include selected master records or field values. (See Automation Preview Report for a more detailed report.)

---
Enable Report Option

To enable this report option, navigate to your Admin menu (top right) and go to Subscription.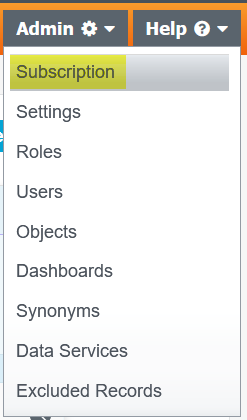 Scroll toward the bottom of the page until you see the Additional Add-Ons section. Click the Add Package link under the Export Filter Results option.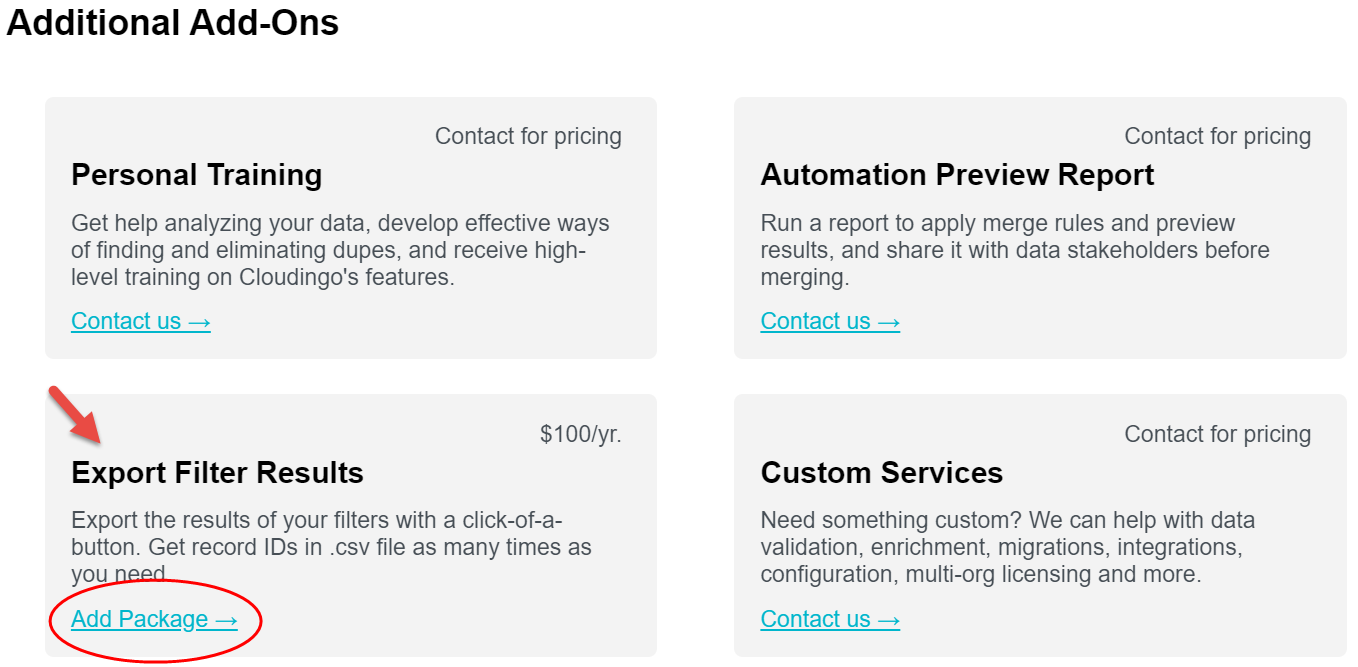 ---
Create Reports
Once the add-on is enabled in your account, select "Export" from the filter menu of any filter you want to report on. A downloadable .csv file will immediately be generated.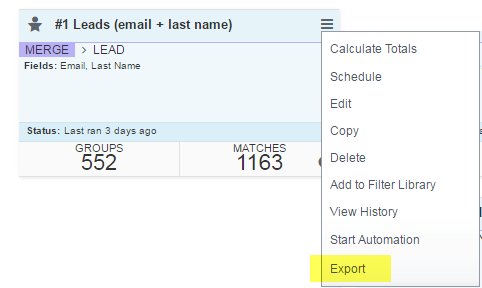 ---
Next Steps
As you will notice in the report output, all IDs involved in the group of record matches are put into one column together separated by comma. You may want to manually split out the IDs into separate rows (in Excel to save to a new CSV). Once you have your IDs listed in separate rows, you might find our Find Data tool useful for uploading the file to to pull back relevant information on the records (real field data rather than just ID). For more information on our Find Data tool, please visit our help article here.
---
Was this article helpful?
---
What's Next