Navigation Options
20 Oct 2021

6 Minutes to read
Navigation Options
Updated on 20 Oct 2021

6 Minutes to read
---
Top Navigation
The top margin of the dashboard provides key navigational links that are always visible:

Activity Stream
(1) The icon at the far left will open and collapse the Activity Stream. The Activity Stream provides information on how Salesforce has processed information from Cloudingo. The Activity Stream allows for monitoring real time jobs to see if they are successfully processing or if there are a large number of errors being reported back. This icon will display a number in green or in red when the stream is collapsed. The number represents the most recent number of groups processed and their success (green) or failure (red). If your stream is collapsed, expand the stream to see a more complete view of the activity.
Activity Stream Pin
(2) The Activity Stream can be collapsed to make your work space larger, or it can be pinned open or closed with the thumb tack icon in the upper right of the Activity Stream box. Your pin selection will be remembered and applied every time you login. You can re-open the Activity Stream again at any time by clicking the Activity Stream icon at the top, left.
Platform Dropdown
(3) The platform drop down menu lists details about your connected Salesforce platform(s). From the drop down you can see the status of the platform, you can edit the settings for your platform connection, and you can add additional platforms up to the allowed limits of your license.
Modules Dropdown
(4) Clicking this menu will bring up the different modules - Dedupe, Data Maintenance, Imports, Reports, Find Data, Field Analysis, plus the Undo/Restore and Integrations (only available for Professional & Enterprise licenses).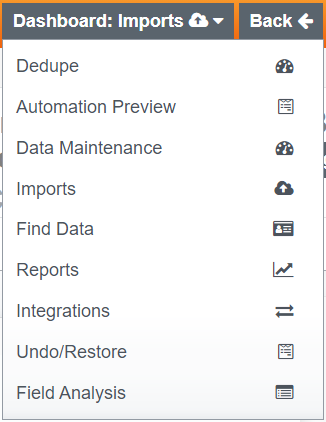 Account & Library Menu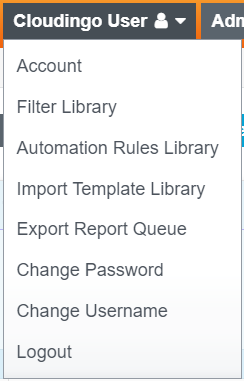 (5) Clicking this menu will bring you into different options for managing your Account & Libraries.
Account: View and Edit information and details about your Cloudingo account (including the menu's First & Last Name displayed).
Filter Library: Copy filters to/from your filter library for easy transfer to additional platform connections.
If using multiple user logins, use the library to copy filters to additional users as well.
Automation Rules Library: Copy automation rules to and from your automation rules library for easy transfer to additional platform connections.
Import Template Library: Available to Professional & Enterprise license customers. Create import templates to simplify and automate the import scanning process.
Export Report Queue: Access all recent Reports that you have already previously exported from the Export Report Queue.
Change Password: Use to change the password for logging into your Cloudingo account.
Change Username: Use to change the user ID for your Cloudingo account.
Logout: Use to sign out of your Cloudingo account.
Admin Menu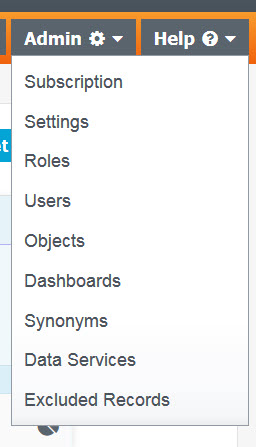 (6) Clicking this menu will bring you to different options for managing Application & User settings. Some of these option are only available to Professional & Enterprise license users, and some options may be hidden from view if your Administrator has chosen to exclude them from your profile roles.
Subscription: View your current plan, update your credit card information, request training, add on exportable or automation preview (pre-merge) reports, and view all past payment transactions.
Settings: (Available for Professional & Enterprise license only) Manage your security access mode for multiple user logins.
Roles: (Available for Professional & Enterprise license only) Edit or create new security permissions for users (when using multiple user logins) in Cloudingo.
Users: (Available for Professional & Enterprise license only) Add new users (when using multiple user logins) and assign them permission roles.
Objects: Pre-Set fields that need to be indexed for your filter calculations. If custom objects is enabled in your org, manage your custom object field selections for filters & rules here.
Dashboards: (Available for Professional & Enterprise license only) Create new filters for users (when using multiple user logins) that can be copied from the filter library.
Synonyms: Manage and customize the pre-set list of synonyms used in Cloudingo's synonym matching algorithms (ex. Bob/Robert, TX/Texas, UK/United Kingdom). Synonym matching is available for First Name, State, Country, & Street (when using fuzzy logic on street).
Data Services: Enable and manage your data services credits, such as address validation.
Excluded Records: Manage all records that are protected or hidden. Also manage Protected Portal Users here.
Help Menu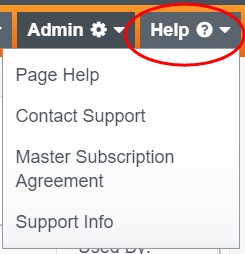 (7) Provides a fast and easy way to get training and help for Cloudingo and to contact our support department.
Page Help: Provides a pop-up window with help text specific to the page you are currently on.
Contact Support: Generates an email direct to the Cloudingo support team.
Master Subscription Agreement: View your accepted contractual agreement with Cloudingo.
Support Info: Provides information about your use of the Cloudingo web service for support purposes.
---
Dedupe Dashboard Navigation
The main window of the Cloudingo Dedupe Dashboard lists the filters that analyze your Salesforce data for duplicates.
Above the filters, at the right margin, are the key navigation menus that enable you to configure and work with Cloudingo.
Actions

Create New Filter: Use to build a new filter for finding duplicates on the dashboard.
Re-order Filters: Customize the order in which your filters are displayed via drag-and-drop (new filters are always added to last position on the dashboard until you customize the display).
Re-Calculate Totals: Re-runs all filters on the dashboard. Running a filter means the filter analyzes the data in Salesforce for any changes or new duplicates.
Automation
Manage Rules: Create and edit rules for automated merging of duplicate records.
Manage Owner Mapping: Manage mappings for re-assigning ownership during merge/convert.
Run Window & Throttle: Control the amount of resources allocated to Cloudingo, and when an automation job can run.
Start Automation: Start an automation job to automatically merge duplicate records. (Click here for more information on configuring automation rules before triggering an automation job).
Halt & Disable All Dedupe Automation: This option will prevent any scheduled automation jobs from running (for all filters and users). Any jobs currently running while this option is enabled may take a while to stop (records already submitted to Salesforce are already awaiting status response). This option will also prevent manual automation jobs from being started.
Warning!
Data Maintenance jobs must be halted from the Data Maintenance dashboard Automation menu. The "Halt & Disable All Dedupe Automation" option only applies to dedupe filters. To half both dedupe and data maintenance jobs at the same time, you can do this within the
Run Window & Throttle
settings. Or toggle independently to each dashboard to halt each one.
Filter tile "gears" icon will change to a "pause" icon. This pause means the previously set schedule has been disabled and merge automations have stopped.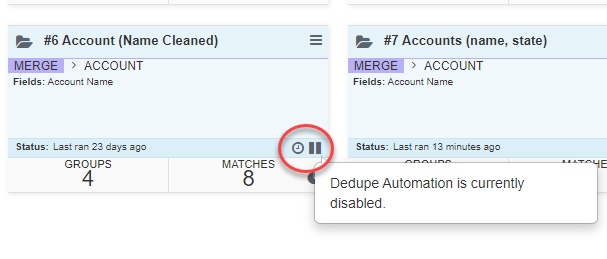 A warning message will appear within any previously scheduled filter indicating that automation has been halted.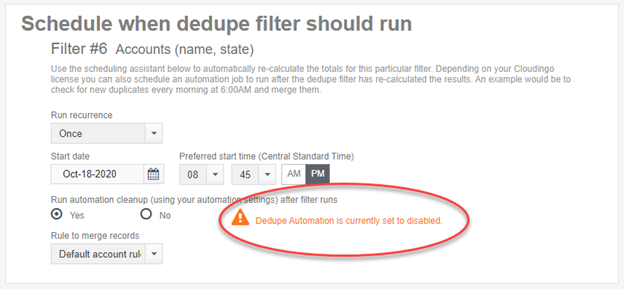 Re-enable Dedupe Automation: If you have previously chosen to 'Halt & Disable All Dedupe Automation', you can choose this option to resume your automation job schedules (and allow new regular automation jobs to process).

Get Started
Access Cloudingo's Get Started Guide at any time.
Dashboard Display
Depending on your preference, Cloudingo has two ways to view your dashboard: grid and list view. Toggle between grid and list views of the filters on the Cloudingo dashboard.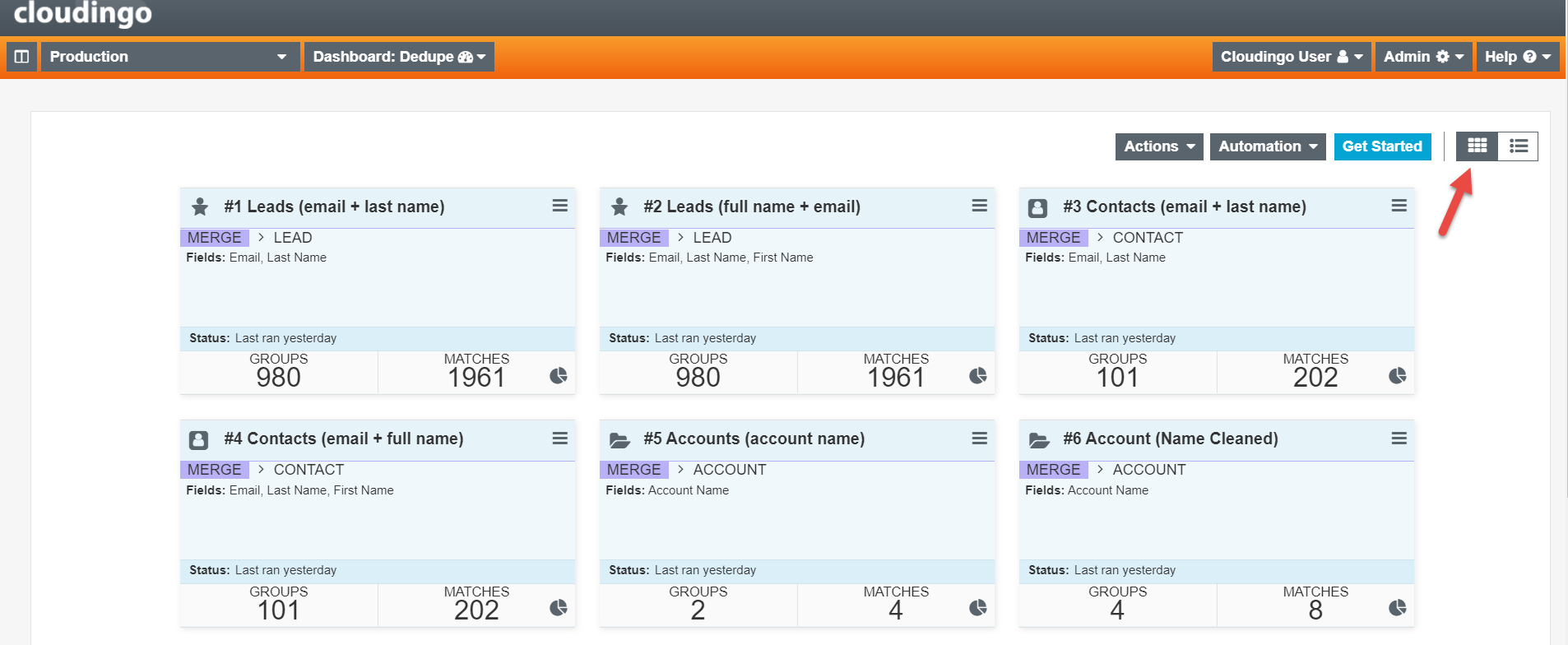 Tile View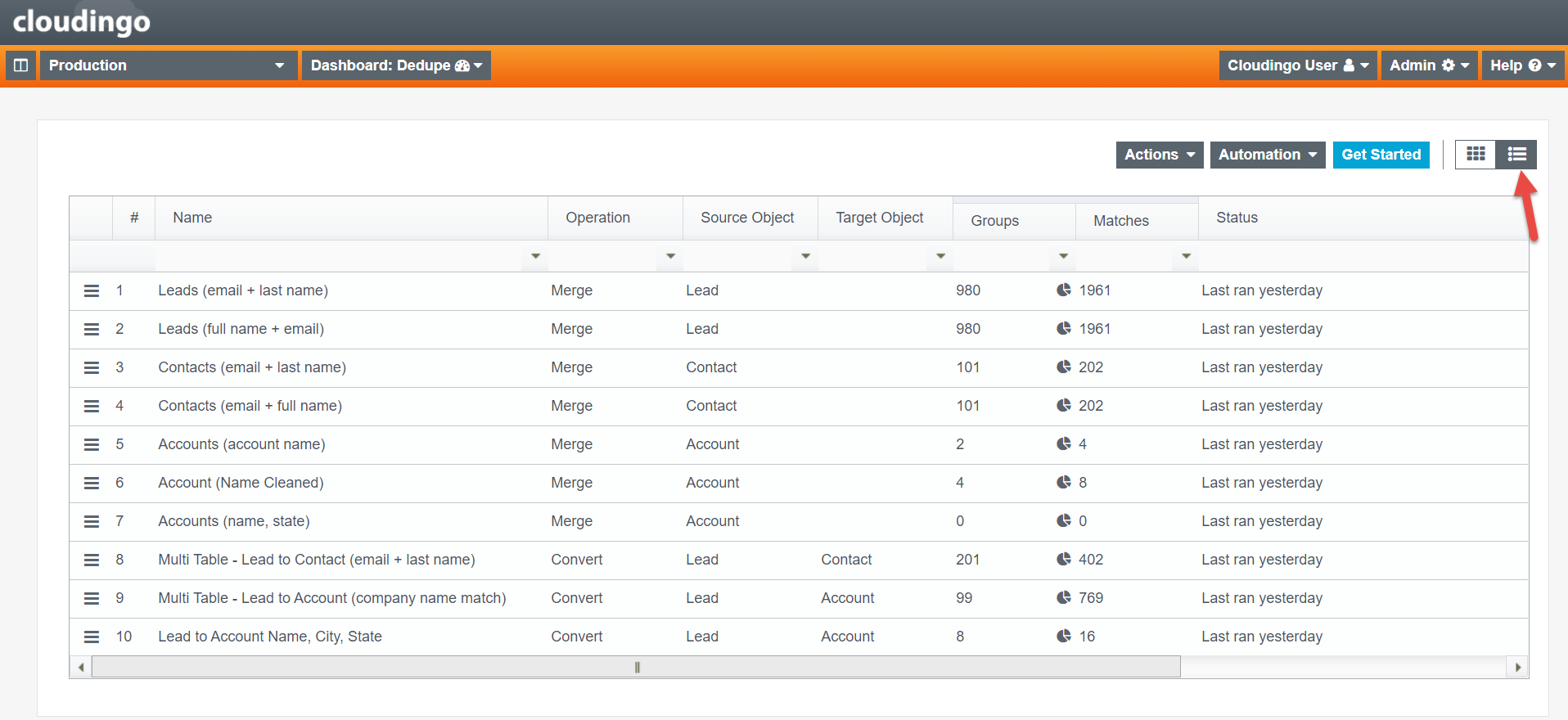 Sorting & Reordering Filters
Both views allow you to reorder your filters, using the drag-n-drop pop-up under Actions → Reorder Filters. If you have a large number of filters, the list view's more robust sorting options may be your ideal option.
The list view also offers the ability to sort & search your filters by Name, Operation, Object, Status, & Fields.


Any changes you make in the list view are mirrored when switching back to the grid view (and vice versa).
---
Videos
Video: Navigation Options
---
Was this article helpful?
---
What's Next